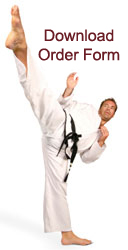 To Order, Download:
Embroidery Belt Order Form
or
Kung Fu Sash Embroidery Order Form
complete form and mail or fax to:
E-Z Stitches Plus, Inc
8004 Hilton Road ,
Laytonsville MD 20882

fax:301-253-9978


Now online ordering for your belt!


Thank you for ordering a black belt from




Martial Arts Embroidery.





We thank you for your business and appreciate your alliance to Martial Arts Embroidery.